Saturday, October 31st, 2009
Last day of the Elephants in Amsterdam!!! They have been placed allover Amsterdam. And  a lot too.And I love Elephants!! Don't you!? And these come in all sorts of colors and poses! And you can buy them! (just go to the webshop)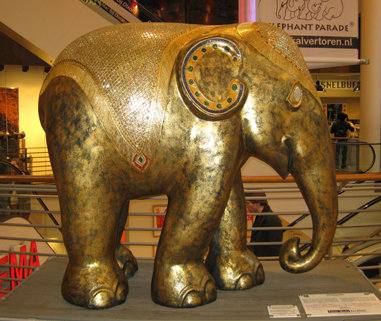 Allover the city you can find elephants in Amsterdam well until today, because today is the last day you can see them in the city. If you still want to see them then  you will have to go to the Zuiveringshal Westergasfabriek . Or you can see them in the gallery on the website of the elephant parade. That's where they will be until they are being auctioned under supervision of Christies.
You can also buy little hand painted replicas of the painted elephants.
They are part of a project that stands up for the Asian elephants. There have been parades in Antwerp and Rotterdam before which where a great success as well and now they are in Amsterdam until November 8.
At November 12 the elephants  will be auctioned and the money that is going to be collected will be donated to the organization "Elephant Family" who will look after the Asian elephants. The Elephants you can find standing around in the city, have been painted by Artists from allover the world.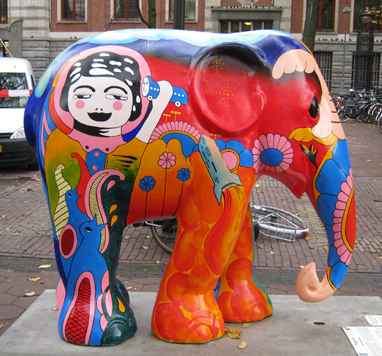 I had seen them a while ago already but of course didn't bring my camera. Well last week we went to the city again and I was able to take some pictures. We where running short on time so I couldn't take as many pics as I really wanted though. I have uploaded them into my Gallery where you can see all the elephant pictures I took.
Perhaps if I can find the time I will go to the exposition before they are being sold. If you can read dutch and want to know more about this art project then of course you have to pay a visit to the official elephant parade website.