Thursday, August 30th, 2012
OMG I so love eating roti once every so often. I grew up in a small town in the country and my neighbours where hindustani. Very friendly kind people, I would almost say its like they where family. They had 5 children, 3 boys and 2 girls. The youngest was just a little younger then me and we used to play together when we where young. My brother was hanging out with the boys a lot and many times we had diner there. So I sort of grew up with roti all be it not daily. Our neighbour was a great cook, at least I like to think so. And in all those years since I have moved away and did not had a meal at their house any more I never have eaten such a good roti with chicken anymore. Untill I found out about Roopram roti in Amsterdam.
I don't give free advertisement and I don't give false advertisement, I am not gonna say something is good when I don't think it is, and I certainly won't say something is the best if it is not.  If you mess up and are being a total dork I will tell you and if you are wonderful and amazing I will be the first one to tell you, and it this case I did not only told them they where great but I am even blogging about it. So to everyone out there who is reading this, Rooprams roti in Amsterdam has the best  roti ever. How do I know? Well every so often when I walked past a restaurant that sold roti and where it smelled pretty good, I just walked in and tried it out to never return there again cause the roti they served was just not what I  was used to I even have tried my own hands at it and although it was not bad it  was again, not what I was used to.. Was I spoiled?  Haha but I could not imagine there was not anywhere else where they would have such good food so I kept searching. And when I finally moved to Amsterdam I went to the Dappermarket  (if you are from Amsterdam you know what I talk about.) and there was again another place selling roti. Rooprams roti it was called. I passed by there a few times and kept thinking every time about trying it out, but you see, I dont like being disappointed so it took a while before I finally went inside. There was always a long row of ppl standing till outside even so it had to be good right? that's how I convinced myself.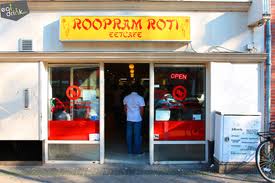 That guy in the white shirt, yeah you are right that's where the end of the line was at the time that this picture was taken. And from the lights on the ceiling you can tell how much further inside you can go and with that how long that line must be.
That day I had been at the park with Merel my oldest daughter and this was long before I meet Antonio. It was as usual very bussy so as I say I went inside I should say I joined the line on the sidewalk and no I am not kidding. I am serious. I joined the line at the sidewalk. Once I was finally inside, still in the line though, I looked around. the place did not looked too fancy,  old bar chairs and cheap kitchen tables, the plates where people where eating from did not match even but they all seem to enjoy the food a lot. The place was clean, the man behind the bar who just took the orders and where you paid was kind, serious, helpful but did not waste time, he couldn't its always busy there and hungry people are not the nicest. I know so because I am not nice when I am hungry. Anyhow now I was still standing there in line , had ordered my meal and paid for it. Then finally there it was. I took it home because if it was a disappointment, I didn't wanted everyone to know it.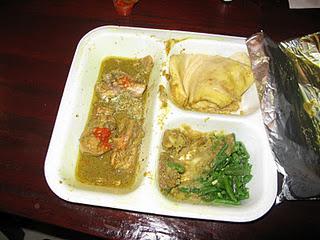 And here's my meal roti chicken with  potatoes and kouseband. the red stuff you see  on the chicken is sambal, a pepper sauce that I don't use on it. I am thinking the person already had eaten some looking at how little chicken was left  I found this pic on the web somewhere and simply stole it:P  I am sure they don't mind. I have no clue who made it and where it came from so if you recognize your picture, let me know and I give you proper credit.
On the way home I stopped at mcDonalds for my daughter because she, I was sure, would most definitely, not like roti with chicken. So we picked up a happy meal and moved on. At home I couldn't wait to eat. I was hungry and it smelled so good. And it was good, no wait it wasnt good that would not give proper credit to my delicious meal. It was the best, the best I ever had since my neighbours roti. So if you are ever in Amsterdam and like roti please by all means stop by at Roomrams roti , Eerste van Swindenstraat 4 in Amsterdam near the  Oosterpark .
And you know what, I am not the only one who likes it and writes about it. I found this post during a random surfing session on the web.